The 50 Inspiring Champions of the Blue MBA Class of 2023 – meet Kristine Palm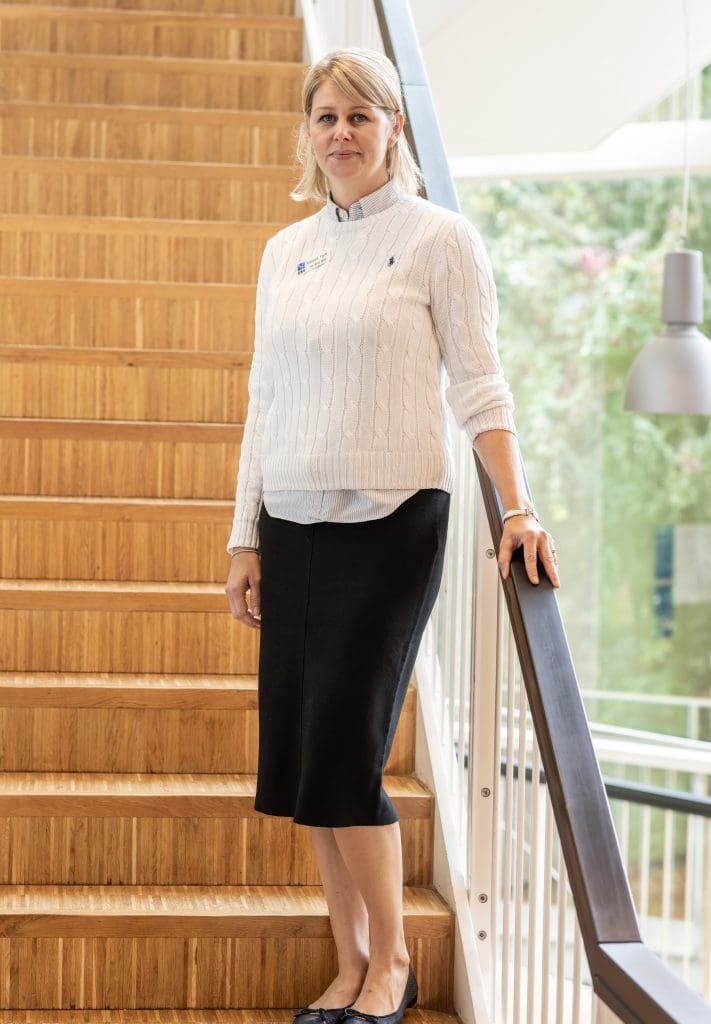 Airfreight expert Kristine Palm is flying high with the Blue MBA
Importers and exporters are resorting increasingly to the services of air transport as the shipping industry struggles with the container shortage and port constraints.
This means an especially busy time for airfreight specialists such as Kristine Palm, who is air logistics director in Sweden, for the market-leading logistics provider Kuehne+Nagel.
Ms Palm is reinforcing her extensive know-how in global logistics by participating in the 50-strong Class of 2023 of the Executive MBA in Shipping & Logistics (the Blue MBA) at Copenhagen Business School. As a part-time course, this allows her to accumulate new knowledge and expertise while continuing to exercise her responsibility for the Kuehne+Nagel business unit Air Logistics Sweden.
Her experience shows that, in terms of international trade, there are ways in which air and sea can combine rather than always being in opposition.
Asked what attracted her to sign up for the Blue MBA, she said: "I had been looking into the different Executive MBA courses for the past couple of years and I decided to join the Blue MBA because of the high focus on the logistics industry.
"Irene Rosberg [programme director for the Blue MBA] has done an excellent job in designing a course with modules that cover different areas of the maritime and logistics industry. It was a true pleasure to start the journey in September together with 49 other highly engaged industry specialists. I immediately felt the dynamic in the group, and it is clear that Irene has put a lot of effort into selecting the candidates for the programme. We have been given a great opportunity to create and be part of a global network."
With a strong background in the airfreight industry, "I will use the next two years to broaden my horizon even further," declared Ms Palm. "The Blue MBA is well placed to support me on my future journey into general management. As a member of the national board of directors in Sweden, I want to ensure that we define the right strategy going forward and that we develop together with our customers where sustainability and industry solutions will be important drivers."
The recent gridlock on some of the main ocean shipping routes has led to manufacturers switching to airfreight solutions to beat the bottlenecks.
"During the last 18 months, we have experienced an imbalance in the global market," observed Ms Palm. "The congestion build-ups in the sea freight market have led to a high demand for air transport. Raw materials, machinery, hi-tech and automotive are among the strongest growing industries and commodities that have seen such changes versus 2019."
Airfreight generally is recovering from the disruptions of pandemic restrictions. "Global air trade is up by 10% compared to 2019 which equals an increase of 184.000 tons of additional airfreight. China is the main contributor to the growth but also North America and Europe are increasing rapidly.
"International [airfreight] capacity is slowly recovering and at the beginning of October the overall capacity was only down 4% compared to the same period in 2019., however the market is still relying on freighter capacity to accommodate the high demand as the widebody belly capacity is recovering slowly and is still 43% down compared to 2019.
"Having access to capacity is key in the current market and serving our customers with hard block agreements and dedicated space on commercial aircraft combined with full and part charters has been a success for us during the pandemic."
"We also see a high demand for alternative solutions such as rail and sea-air transports," said Ms Palm. "Our sea-air product offers our customers a solution which is 50% faster than sea freight and 40% cheaper than airfreight. Furthermore, it helps reduce the Co2 emission by up to 50%."
She added: "Another airfreight product which we have had great success with during the pandemic is our TimeCritical service where we offer our customers high quality logistics solutions for mission-critical shipments."
She underlines that airfreight is a crucial mode of transport in a company's supply chain because of speed and reliability. "While only 2 to 3% of the total cargo volumes globally are transported by air, this still accounts for 35% of the total cargo value transported each year. E-commerce is one of the main drivers in the air cargo industry and +20% of the air cargo volumes in 2022 is expected to come from the e-commerce market.
In her post in Sweden, her accomplishments have included re-defining strategy and a complete re-structure which involved the tough decision to close two operational offices to establish a fully centralised operation. "The benefits of being able to serve our customers with a larger team of specialists have been great," she says.
She entered the industry as an airfreight export trainee with the Danish company DFDS Transport A/S (known as DSV today), where she completed a two-year forwarding education with a focus on airfreight and express solutions. Striving to gain more knowledge and explore the industry from a global perspective, she continued her career with DFDS Transport Inc in Atlanta, Georgia, for the following two years.
Much of her career has been with Kuehne+Nagel, which originated as a traditional shipping company and today offers specialised logistics solutions for major industries worldwide, involving some 400,000 customers. Its network connects 109 countries, and it is the largest sea freight forwarder globally and one of the market-leading airfreight forwarders.
Ms Palm has been with the group since 2006, in various positions with the Air Logistics business unit. She worked her way up, starting in the operational department and now holding the position of senior air logistics director and being a member of the national management board in Sweden.
Such a career pattern has ensured she is closely familiar with every aspect of the airfreight forwarding industry. Ms Palm believes that the success of a company comes from the people within it and her ambition is to drive the organisation to become the market leading third-party logistics provider in Sweden.