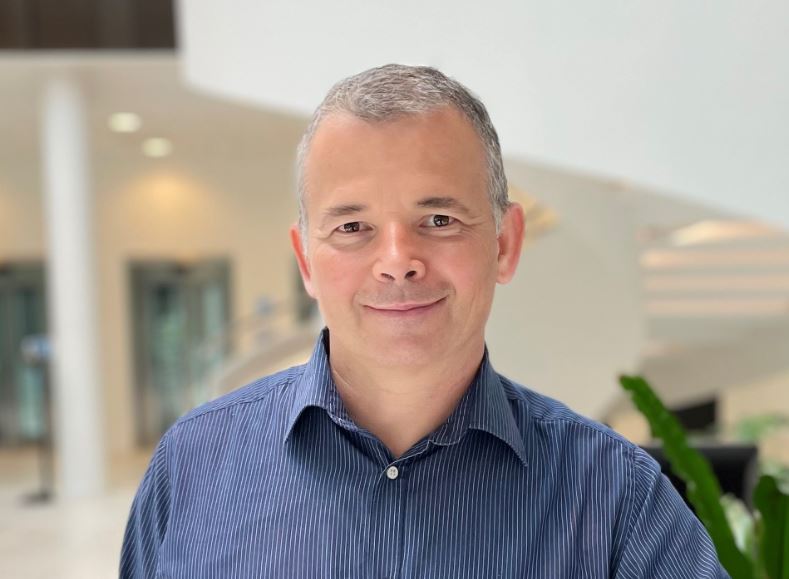 With a vital governance and compliance role at Maersk Supply Service, Angelo Tossio says the Blue MBA is enriching his contribution to industry best practice
As head of governance and compliance at Maersk Supply Service, Angelo Tossio and his team are responsible for ensuring full observance of regulatory best practice in its key energy sector work. The company has a long record of performing complex operations at sea, with its anchor handling and subsea support vessels specialising in towing, mooring, and installing floating units.
Currently, Mr Tossio is dovetailing his "day job" with participation in the Class of 2023 of the Executive MBA in Shipping & Logistics (the Blue MBA) at Copenhagen Business School. He says: "These studies are helping me to develop new ways of looking at demanding circumstances and taking them as challenges or problems to overcome. With the Blue MBA course, I am gaining a new perspective on how maritime business is moving and is rapidly going through a deep transformation, driven by the need to be a sustainable and a more environmentally friendly industry.
"The Blue MBA is enriching my professional experience with additional leadership tools and a deeper industry knowledge. It is an amazing journey with great possibilities to explore the business models behind a vessel and the know-how to link strategic, operational, supply chain and finance aspects. Not forgetting the first-class networking opportunities opened up by the Blue MBA programme, working together with an impressive variety of maritime leaders, all coming with valuable experience in management and maritime business."
Mr Tossio underlines the importance of the governance and compliance function to Maersk Supply Service and its clients. The company is a subsidiary of AP Møller-Mærsk A/S, one of the world's top shipping and offshore groups, and has an enviable reputation for high quality operation, with a fleet of 36 vessels with more than 1,100 crew, supported by 220 onshore staff.
"In my team we ensure constant focus and are fully responsible for our compliance obligations such as industry-specific rules, internal operational instructions and class and statutory regulations; to operate in a lawful manner and to satisfy the requirements of internal and external auditing.
"Integrating regulatory monitoring into daily operations provides confidence to both our own employees and external parties. It should also be mentioned that an effective management of regulatory legislation and full adherence to internal operational guidelines and procedures contributes to cost-reduction and improved competitiveness. It is a vital tool in ensuring and maintaining the company's competitive advantage.  To summarise, I would say that being transparent about such processes helps clients build trust in business processes."
International standards, recommendations and legislation are constantly changing. How does Mr Tossio keep up with the latest requirements of governance in shipping and offshore?
"Apart from monitoring regulatory agency websites, following regulatory agencies on social media and subscribing to blogs and newsletters, I consider that that the most modern and efficient way to stay informed about regulatory changes is to build an effective relationship with local and state authorities, regulators, and class societies. And this is what we are working on.  This is because they are the first to know when a new rule is proposed so if you can communicate with your regulator on a routine basis, there's a better chance you'll hear about these changes in advance. Plus, regulators sometimes solicit input and information from affected entities when drafting a new rule. Having a good relationship with your regulators puts you in a position to provide feedback on how new rules are created. Once drafted, regulators may seek comments on the proposed rule; therefore, participating in the process helps regulators improve their rules and ensures that the voice of Maersk Supply Service is heard.  We use this option by joining industry associations, which is a great way to stay current in our field."
How well is shipping and offshore in general adapting to the new environmental technologies?
"There is a general trend, and one which Maersk Supply Service is also following, to commit and conduct business in the most sustainable, ethical, and conscientious way possible, using Environmental, Social and Governance (ESG) principles to focus on our wider social impact and environmental footprint. On the practical side, this new value proposition is partly being achieved through the installation and use of efficient technologies helping to reduce the environmental footprint of our vessels. Maersk Supply Service is committed to decarbonising its fleet and is expanding into renewable capabilities such as floating wind and ocean cleaning. It is clear that no one individual, company or organisation can solve the climate crisis alone – the scale is global, and it will require a collective effort to devise a global solution."
Mr Tossio has more than 20 years of technical, operational and leadership experience in the offshore and shipping industries.
He began his career as a naval chief officer and coordinator of maintenance and repair of Italian Navy ships, and he went on to hold technical and leadership roles in recognised international companies. "This has given to me the opportunity to meet different cultures and learn to deal with new and challenging environments and situations," he says.
He has headed governance and compliance at Maersk Supply Service since December 2016. This entails providing leadership to the governance, compliance, and nautical team, defining processes, policies, and guidelines, and ensuring that daily operations and related maintenance activities meet local and international legislation and conventions including Solas, Marpol and other IMO instruments. As a qualified lead investigator, he is ready to respond to incidents as well as defining the standards for optimisation and quality of the operations of Maersk Supply Service vessels. He had been appointed in 2014 as quality and compliance manager with Maersk Drilling, following a spell in that division as class coordinator and compliance superintendent in the maintenance department.
Earlier, he was leader of the pollution prevention group at Det Norske Veritas, Oslo, providing compliance services to customers: he was project manager for Environmental Notation and the development of technical procedures and documentation for new technologies relating to greenhouse gases, nitrogen oxides (NOx) reduction devices, ballast water treatment, sulphur oxides (Sox) scrubbers, and oily water separators.