The 50 Inspiring Champions of the Blue MBA Class of 2023 – Meet Alessio La Rosa
The 50 Inspiring Champions of the Blue MBA Class of 2023 – Meet Alessio La Rosa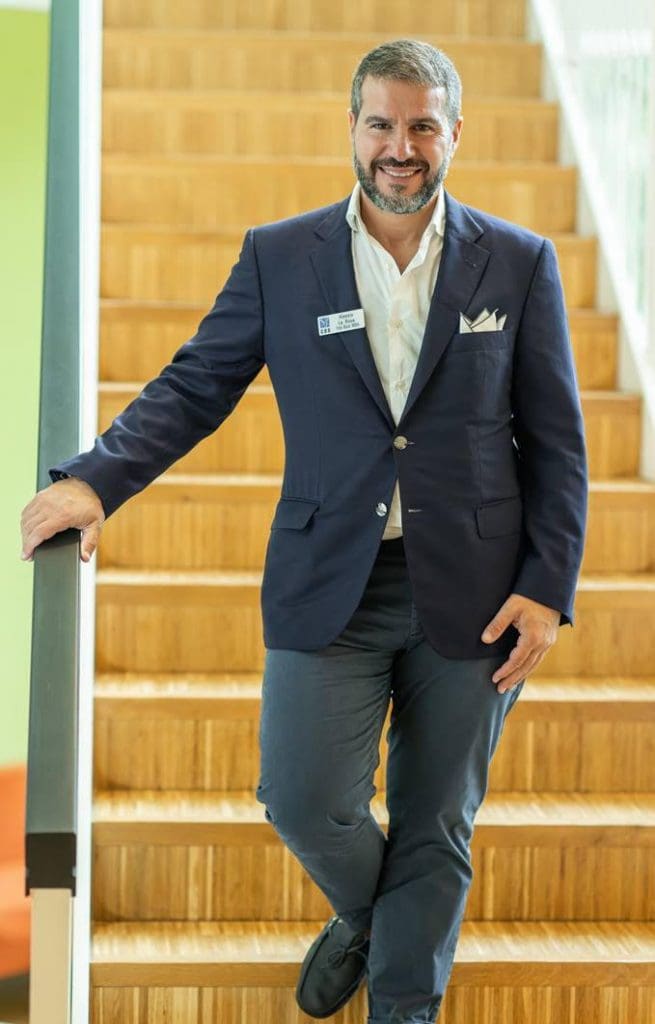 Alessio La Rosa, global head of freight at agribusiness giant Cofco International, says the Blue MBA will be an all-round boost to his work
Alessio La Rosa is the global head of freight at Cofco International in Geneva, a huge concern with more than 11,000 employees in 35 countries. Cofco International is the overseas agribusiness platform for Cofco Corporation, China's largest food and agriculture company. Informed and insightful management of market risk is a discipline at the core of his contribution to the company's performance.
At the same time as fulfilling his tasks in his highly responsible position, Mr La Rosa has embarked on the part-time two-year programme of the Executive MBA in Shipping & Logistics (the Blue MBA) at Copenhagen Business School.
What inspired him to add that challenge to his already hectic schedule?
"Unlike most of the other candidates of the Blue MBA, my decision to participate was not driven by the need or desire to look for better opportunities elsewhere nor to further my career within the same organisation," he says.
"For me it was brought on by a personal need to test myself in an academic world I surely undervalued 25 years ago.
"I must admit the timing and logistics are not ideal for me as the pressure to deliver results is forever present, but then again when would the timing be right?
"Despite any doubts I stay true to my belief that learning is a lifelong journey and only by overcoming such obstacles can I become a better version of myself."
He is aiming to broaden his knowledge not only in the dry market, where he has already accumulated much experience, but in the many other sectors of the shipping world.
Conditions for freight trading have been especially turbulent because of the pandemic, and because of congestion at many major ports. Commodity prices have been highly volatile. How difficult has it been to manage pricing, delivery, and if necessary, diversion of cargoes, and other disruptions in the recent period?
Mr La Rosa concurs that "2021 has been extremely volatile and as a result the dynamics of our daily tasks have completely changed. The pricing mechanism has been turned upside down. We are seeing at times a differential of up to $5 between the bid/offer which has created a tremendous amount of pressure for our commercial team and has often resulted in internal friction with commodity traders."
In fact, he thrives on his ability to handle market risk.
"I am and have always been a friend of volatility. Where others see risks, I see opportunities. The water's surface is visible to all, but to catch what the rest don't see we need to dive in and take a swim.
"Despite all the difficulties brought on by the pandemic we have been able to avert major bottlenecks throughout the supply chain and ship safely and on time. Managing this uncertainty has provided us with opportunity which allowed us to deliver strong results for our organisation."
How important in the mix are FFAs (forward freight agreements which give businesses the ability to manage their freight risk)?
Mr La Rosa says that volumes have been driven by exacerbated market volatility and big structural trends (Panamax going from $9,000 per day to $40,000 for example) as well as increased fund involvement.
"This year we have seen the return of financial players to the market, providing volume and volatility which translates into liquidity. They are essential to this market. Volatility can be painful to hedgers at times, but it drives liquidity which draws in more players. The goal of any large physical trader is to have the ability to seamlessly hedge his position when needed."
How important is in-depth research to understanding and getting on top of the markets?
"Research is not only key, but also the crown jewel of our organisation. All our trading decisions are based on sound supply and demand analysis through AI and machine learning process. Our research has improved and developed over the years and must constantly adapt to change. A heavy emphasis is placed on short-term which enables us to forecast the next 30-60days. In the end, the back end of the curve is a reflection of the front end."
Mr La Rosa has worked for Cofco for the past 13 years. In 2015, when the group bought the agribusiness of the Noble Group, Mr La Rosa applied his organisational and leadership abilities to set up Cofco International's freight department, building a trade book of more than 50m tons.
Mr La Rosa had previously made his mark in the Noble Group, starting as a chartering manager in Noble Grains and rising in less than four years to the post of director of Noble Chartering. He was awarded the "best performer on the freight desk" for not only his own performance but developing a particularly stable team. He also worked with Louis Dreyfus Commodities for more than 10 years in various positions, the last of which was freight trader.